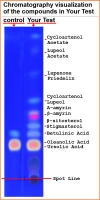 Click for Larger Image

Be sure the herbs and herbal extracts you use have been properly processed using TLC (Thin Layer Chromatography). A Chromatography Lab Test should include compounds such as Triterpenoids, Amyrin, sitosterol, Stigmasterol, Betulinic Acid (BA), Oleanolic Acid (OA), Rosmarinic Acid (RA), Ursolic Acid (UA).

Let us test your herbs and herbal extracts to be sure that they have the compounds you expect them to have. Our Chromatography Lab Test will let you visually see the colorful Betulinic Acid (BA), Oleanolic Acid (OA), Ursolic Acid (UA), Rosmarinic Acid (RA) spots with the control marker spots right beside them. You will be able to compare your herbal compounds with known control markers. You will also be able to see other compounds that fall within the test range, such as Triterpenoid Saponins Amyrin, sitosterol, Stigmasterol. Above image is an actual Chromatography test plate.

When you buy herbs and herbal extracts, you need to be sure that it has been properly processed. Send me a sample of your herb or herbal extract and I will checked it for potency using chromatography. The sample, if liquid, should be about 1/10th oz in a bottle or jar. If the sample is powder, granule or a capsule, you can put it in a zip-lock bag. I will test it in my Lab for Triterpenoid Saponins including Amyrin, sitosterol, Stigmasterol, Betulinic Acid, Oleanolic Acid, Rosmarinic Acid, Ursolic Acid, etc, to be sure that they have been properly processed.

I will spot the plate, develop, mist with visualizer, heat treat in plate furnace, analyze in UV-365nm light box, photograph the plate, and eMail you the results. If you want, I can call you and discus the results if you want.

This Chromatography Lab Test will show you,

conclusively

, what is in your sample. We do not normally mail you the plate because when the chromatography is fully developed, we immediately a take photo using UV-365nm lighting. Over the next hour the plate looses some of its color before it stabilizes. Also, if we send you the plate, it must be handled with care, as the chemicals that we use to develop the plate may cause a chemical burn. If you still want the plate, call me

in advance and make arrangments to mail it to you.

We suggest using Triterpenoid Saponins only after consulting your health care professional.
Chromatography Test for Triterpenoid Saponins